Protection Dog Sunglasses. Dog Accessories. Order Now!
Protection Dog Sunglasses 🐶 🕶 Get this cute UV dog sunglasses to protect your pet's eyes. Amazing dog glasses 👓 🐕 . 🛒 Buy Now❣️ Many cute dog supplies. Formerly, in this section you can find specifications of the product of interest such as measurements, colors, materials, prices and images then this information will help you get to know the product closely. Then, at the end of the text you will find "Layla's Dog Blog" (your four-pawed friend) where she tells you the importance of acquiring certain dog products for their care and entertainment, consequently you will be able to choose better. Likewise, Layla's photo / video is added so that you know her and can access her blog.
Moreover, in the last part of the description you will see the links to our social networks Facebook, Instagram, YouTube, Pinterest, Twitter and Layla's Blog, therefore you can click and follow us to keep informed of daily news thus you can interact with us and share what you like it. As well as informing us what topics interest you or what products you would like us to offer according to your preferences and needs.
Undoubtedly, you can browse all sections in our store where you might find all shipping and important information for you as a buyer, then all your doubts can be solved. However, if you have any question please feel free to contact us. You are the most important for us, therefore your satisfaction is crucial for us. Furthermore, if you have any suggestions, all of them are welcome for us.
Finally, after your purchase please send us an email in order to receive a bonus for your next order.
Description Protection Dog Sunglasses:
Best Selling Pet Glasses 6 Color Foldable Small Medium Large Dog UV Protection Sunglasses Dog Cat Accessories Pet Supplies
Name: Pet glasses
Color: blue, black, white, yellow,wine red, pink
Material: plastic
Weight: about 35g
Specifications: One size, suitable for dogs with more than 12 kg, mini, toys, ultra-small pets are not suitable.
Size: The lens is stretched to a maximum of about 17cm. The widest part is about 5cm, the strapping width is about 2cm, the chin strap is stacked up to a maximum length of about 19cm, and the minimum is about 9.5cm. Adjust to a maximum length of about 17 cm, adjusted to a minimum of about 8.2 cm.
Note:
1. The product size is measured by hand level measurement, and there may be 1~3cm error.
2. All product pictures are taken in kind. Because the difference between lighting and display may be different from the actual object, this kind of problem is not a product quality problem. The final color is subject to the actual product.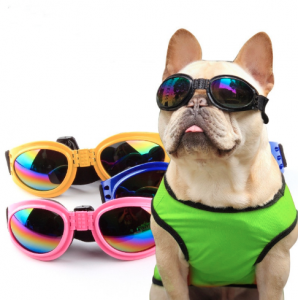 The venting design allows the glasses to ventilate from the outside to prevent fogging of the lens.


The design of the adjustment frame is suitable for any canine bone structure, can be adjusted, and is convenient to carry.


The inside of the glasses is provided with a foam pad holder to improve the wearing comfort of the dog.


Using high-grade UV-resistant polarized lenses, full-effect anti-UV400.

---
Hello! I am "doggy Layla", your four-pawed friend 🐶 talking to you. Here I share my photo with you.
I would like to invite you to visit my blog and please any suggestion or topic that you wish I talk about, please let me know in the comments section. our
Also, you can follow us in our social media. Below you can see the links.
Thank you for reading me 🙂
See you in my blog: Layla's Dog Blog. 🐶