Dog Fence, Safety Gate, Mesh Guard. Purchase Now!
Dog Fence 🐶 Useful dog barrier. 🚗 🥅 A practical safety dog gate. Mesh isolation for home. 🛒 Buy Now❣️ Many cute dog supplies. Formerly, in this section you can find specifications of the product of interest such as measurements, colors, materials, prices and images then this information will help you get to know the product closely. Then, at the end of the text you will find "Layla's Dog Blog" (your four-pawed friend) where she tells you the importance of acquiring certain dog products for their care and entertainment, consequently you will be able to choose better. Likewise, Layla's photo / video is added so that you know her and can access her blog.
Moreover, in the last part of the description you will see the links to our social networks Facebook, Instagram, YouTube, Pinterest, Twitter and Layla's Blog, therefore you can click and follow us to keep informed of daily news thus you can interact with us and share what you like it. As well as informing us what topics interest you or what products you would like us to offer according to your preferences and needs.
Undoubtedly, you can browse all sections in our store where you might find all shipping and important information for you as a buyer, then all your doubts can be solved. However, if you have any question please feel free to contact us. You are the most important for us, therefore your satisfaction is crucial for us. Furthermore, if you have any suggestions, all of them are welcome for us.
Finally, after your purchase please send us an email in order to receive a bonus for your next order.
Description Dog Fence :
Pet Dog Fence Gate Safe Guard Safety Enclosure Dog Fences Dog Gate The Ingenious Mesh Magic Pet Gate Pet supplies
Don't want your dog coming to just any room of your house? This safety gate is the easiest and most convenient way to keep your dog from freely wandering around in the house. It's perfect for doorways, between walls or stairwells and it can easily be moved from one place to another when needed.
And now it comes in a bigger size for big gates, doors, and stairways to keep pets at home or in one room!
Main Features:
It is perfect for doorways, between walls, or stairwells, inside and outside.
Built with tough partially see-through mesh fabric woven to withstand the abuse of pets
No tools needed for installation
Each set contains a woven fabric, two stretchable poles, and four sticky hooks
How to Use:
Stretch two metal posts for the maximum length.
Put these two poles in the tunnels on both sides.
Fix the sticky hooks where you install the magic gate.
Hang the fabric woven on the four hooks.
Product Specification:
S: 110 * 72cm (about 43.3 / 28.3 inches)
L: 180 * 72cm (about 70.86 / 28.3 inches)
What if my door is smaller than 100 or 180 cm?
In that case, we advise you to roll one of the sides of the product inwards to make the product shorter or to put the sticky hooks further on the wall if that is possible.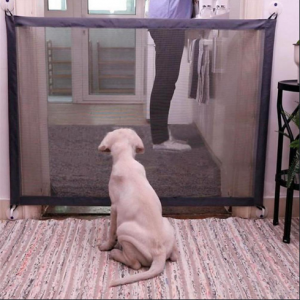 ---
Hello! I am "doggy Layla", your four-pawed friend 🐶 talking to you. Here I share my photo with you.
I would like to invite you to visit my blog and please any suggestion or topic that you wish I talk about, please let me know in the comments section. our
Also, you can follow us in our social media. Below you can see the links.
Thank you for reading me 🙂
See you in my blog: Layla's Dog Blog. 🐶