Dog Absorbent Training Pads. Leak-Proof Pee. Buy Now!
Dog Absorbent Training Pads 🐶 Get these helpful dog diapers, very useful for your dog. A Training Tool. 🐕‍ 🛒 Buy Now❣️ Many cute dog supplies. Formerly, in this section you can find specifications of the product of interest such as measurements, colors, materials, prices and images then this information will help you get to know the product closely. Then, at the end of the text you will find "Layla's Dog Blog" (your four-pawed friend) where she tells you the importance of acquiring certain dog products for their care and entertainment, consequently you will be able to choose better. Likewise, Layla's photo / video is added so that you know her and can access her blog.
Moreover, in the last part of the description you will see the links to our social networks Facebook, Instagram, YouTube, Pinterest, Twitter and Layla's Blog, therefore you can click and follow us to keep informed of daily news thus you can interact with us and share what you like it. As well as informing us what topics interest you or what products you would like us to offer according to your preferences and needs.
Undoubtedly, you can browse all sections in our store where you might find all shipping and important information for you as a buyer, then all your doubts can be solved. However, if you have any question please feel free to contact us. You are the most important for us, therefore your satisfaction is crucial for us. Furthermore, if you have any suggestions, all of them are welcome for us.Finally, after your purchase please send us an email in order to receive a bonus for your next order.
Pet Diapers
Size

:
S:33X45CM 20pcs;
M:33X45CM 100pcs;
L:45X60CM 50pcs;
XL:60X60CM 40pcs;
XXL:60X90CM 20pcs
Weight:
0.5KG(For the largest )
Feature:
Super-absorbent core that turns liquid to gel upon contact
Leak-proof with plastic lining to prevent damage to floors
Quick-dry surface with built-in attractant
Great for training puppies, assisting aging dogs, or as an alternative to the outdoors for indoor dogs
Tips for Training:
Help familiarize your puppy with the pad by placing him on the pad several times during the day. When the puppy successfully goes potty on the pad, immediately reward with verbal praise and a special treat, then replace the used pad with a fresh one. If your puppy eliminates elsewhere, gently place him back on the pad as encouragement, always using positive (never negative) reinforcement. For best results, confine your puppy to a smaller space to start, like a kitchen or bathroom.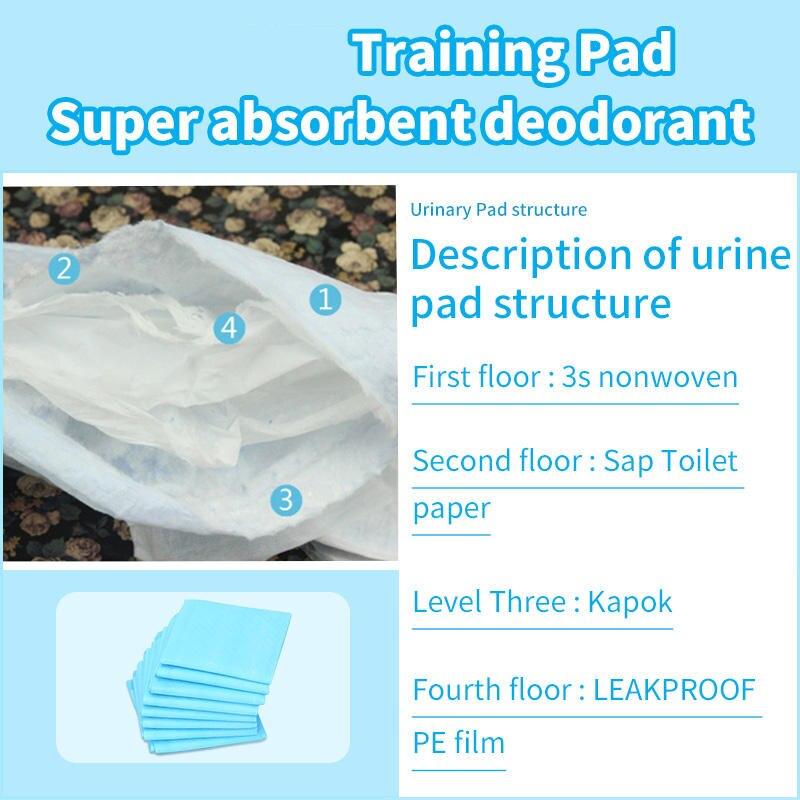 ---
Hello! I am "doggy Layla", your four-pawed friend 🐶 talking to you. Here I share my photo with you.
I would like to invite you to visit my blog and please any suggestion or topic that you wish I talk about, please let me know in the comments section. our
Also, you can follow us in our social media. Below you can see the links.
Thank you for reading me 🙂
See you in my blog: Layla's Dog Blog. 🐶