Anti-Barking Dog Collar, LED, Shock Vibration. Buy Now!
Anti-Barking Dog Collar 🐕 📴 Get this dog training anti-barking device ✳️ 🐶. Shock Vibration Buy Now❣️ 🛒 Many cute dog supplies. Formerly, in this section you can find specifications of the product of interest such as measurements, colors, materials, prices and images then this information will help you get to know the product closely. Then, at the end of the text you will find "Layla's Dog Blog" (your four-pawed friend) where she tells you the importance of acquiring certain dog products for their care and entertainment, consequently you will be able to choose better. Likewise, Layla's photo / video is added so that you know her and can access her blog.
Moreover, in the last part of the description you will see the links to our social networks Facebook, Instagram, YouTube, Pinterest, Twitter and Layla's Blog, therefore you can click and follow us to keep informed of daily news thus you can interact with us and share what you like it. As well as informing us what topics interest you or what products you would like us to offer according to your preferences and needs.
Undoubtedly, you can browse all sections in our store where you might find all shipping and important information for you as a buyer, then all your doubts can be solved. However, if you have any question please feel free to contact us. You are the most important for us, therefore your satisfaction is crucial for us. Furthermore, if you have any suggestions, all of them are welcome for us.
Finally, after your purchase please send us an email in order to receive a bonus for your next order.
Description Dog Anti Barking Device:
New pet dog Anti bark dog collar Electric shock Vibration sound with LED for small medium large dogs chihuahua husky Golden Retriever German Shepherd French Bulldog no barking training collar dog accessories
Seller's Shipping Method: It usually takes about 8-13 days to arrive depending season.
Material:ABS+PC
Waterproof Level:IP67
Battery Capacity: 480mAh (Lithium Ion)
Output: 5.0V 1.0A
Charge Time: 2-3 Hours
Lasts 12 Days per Charge
Beep+Vibration,Beep+Vibration+Static Shock mode
Adjustable range of the collar: 3.7-21.5in, fits all dogs from 6 to 150 lbs.
certificate:CE/FC/RoHS
Anti False Triggering Sensor:
The triggering sensor equipped in this intelligent bark collar will detect and filter then activates Only when your dog barks(1000-2000kHZ,80-90db).No more other nearby dogs barking, shaking head or other sounds will activate collar.
2 Training Modes And 5 Sensitivity Levels Adjustable:
Bark collar has 2 training Modes include "Beep + Vibration + Harmless Static Shock" default setting mode and "Beep + Vibration" Mode, and 1-5 adjustable sensitivity level adjustable. Stop barking with no harm to dogs. Select the most suitable mode and level freely as your needs.
Humane Intelligent Protection Mode:
Designed with battery OVERCHARGE protection, Long use life. For healthy and safety of your pet, The collar will deactivate if it's activated 6 times in 1 minute, and resumes its functionality after 2 minutes. Adopt SAFE STATIC SHOCK, the collar will release weak electricity at intervals in the early period, the discharge frequency and intensity will be gradually increased in the later period, then the collar will enter into the two-minute protection mode.
Super Performance:
IP67 WATERPROOF & RECHARGEABLE shock collar for dogs, Ensure safe use indoors and outdoors in any weather conditions. Equipped with one advanced TPU reflective belt, convenient for night travel! And a spare black nylon strap, strong material resistant to scratch, Easy Clean. Built-in USB rechargeable 480mA battery. Full charge in 2-3 Hours for about 15 days regular use.
Unique Smart Test Mode:
Equipped with LED lights, it can help you test whether the product works properly before use, it also helps you troubleshoot problems while in use. You just need to make a simulated dog bark towards the collar's sensor hole in a certain mode and device will start to work.
Package Includes Anti-Barking Dog Collar :
Bark collar (1)
Adjustable Nylon Collar (1)
USB Charging Cable (1)
Test Light (1)
User Manual (1)
Contact Points (4)
Conductive Silicone (4)
Note: Charge the dog collar before use.
Buy With Total Confident:we are offer a 100% satisfaction guaranteed or your money back. If you have any question with the dog anti bark collar, please feel free to contact us.thank you.
​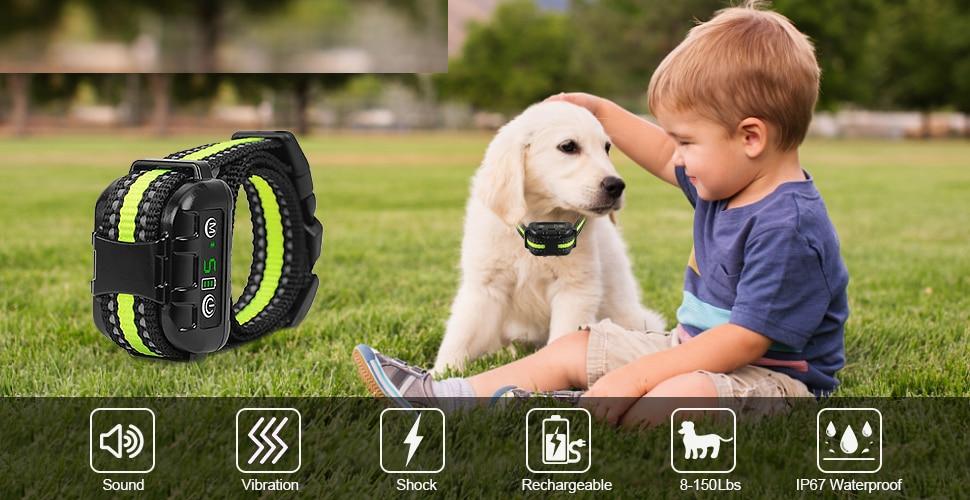 ---
Hello! I am "doggy Layla", your four-pawed friend 🐶 talking to you. Here I share my photo with you.
I would like to invite you to visit my blog and please any suggestion or topic that you wish I talk about, please let me know in the comments section. our
Also, you can follow us in our social media. Below you can see the links.
Thank you for reading me 🙂
See you in my blog: Layla's Dog Blog. 🐶